Beaches of the Dominican Republic
One of the perks of being a Peace Corps volunteer in a lush, green, island paradise is my constant proximity to some of the worlds most beautiful beaches. While I'm certainly no expert on Dominican beach-going, here's a short guide to beaches of the Dominican Republic. This could just be the motivation for you guys to get your butts down here to visit me.
Until now, I've only visited North Coast beaches (on my part of the island), but I'd like to fix that!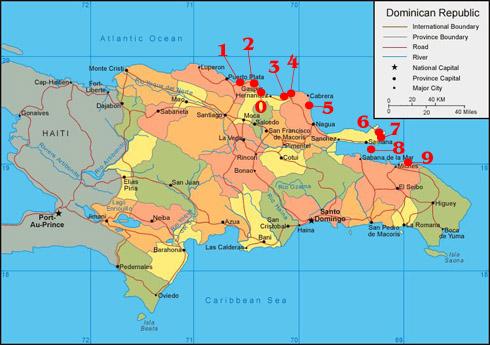 &nbsp 0 - Veragua, Gaspar Hernandez, my hometown
&nbsp 1 - Sosua
&nbsp 2 - Cabarete
&nbsp 3 - Playa Caleton, Rio San Juan
&nbsp 4 - Playa Grande
&nbsp 5 - Playa La Entrada
&nbsp 6 - Playa Rincon, Samana
&nbsp 7 - Las Galeras, Samana
&nbsp 8 - Cayo Levantado, Samana Bay
&nbsp 9 - Costa Esmeralda, Miches
Sosua
The white sand beach of Sosua offers clear, blue, calm water and a beautiful view reaching out to Puerto Plata in the distance. Tropical fish swim just a few meters out from the beach and make for a great snorkeling trip. Unfortunately, Sosua is also one of the most developed beaches on the North Coast and is often crowded with tourists and hawkers. Souvenir shops, bars, and small restaurants span the strand from end to end. The beach at Sosua is best visited in the morning before the hustle and bustle arrives.
Cabarete
I've never thought of Cabarete as a beautiful beach, but perhaps that's alright. The fans of Cabarete don't come to enjoy the beach for itself. Cabarete's main draw is it's year-round sustained winds which power sails and kites for windsurfing and kite-boarding respectively. In that way, Cabarete caters more to the "extreme" sports enthusiasts, and it shows in the scattering of boutiques and surf shops that line the town center. Cabarete, too, is relatively well developed and offers restaurants, cafes and countless souvenir stalls. The beach itself is one of a sucession of shallow bays and offers gray sand and slightly choppy waters. Another draw for Cabarete is the nightlife, and dining on the beach while the sun sets is worth it every time.